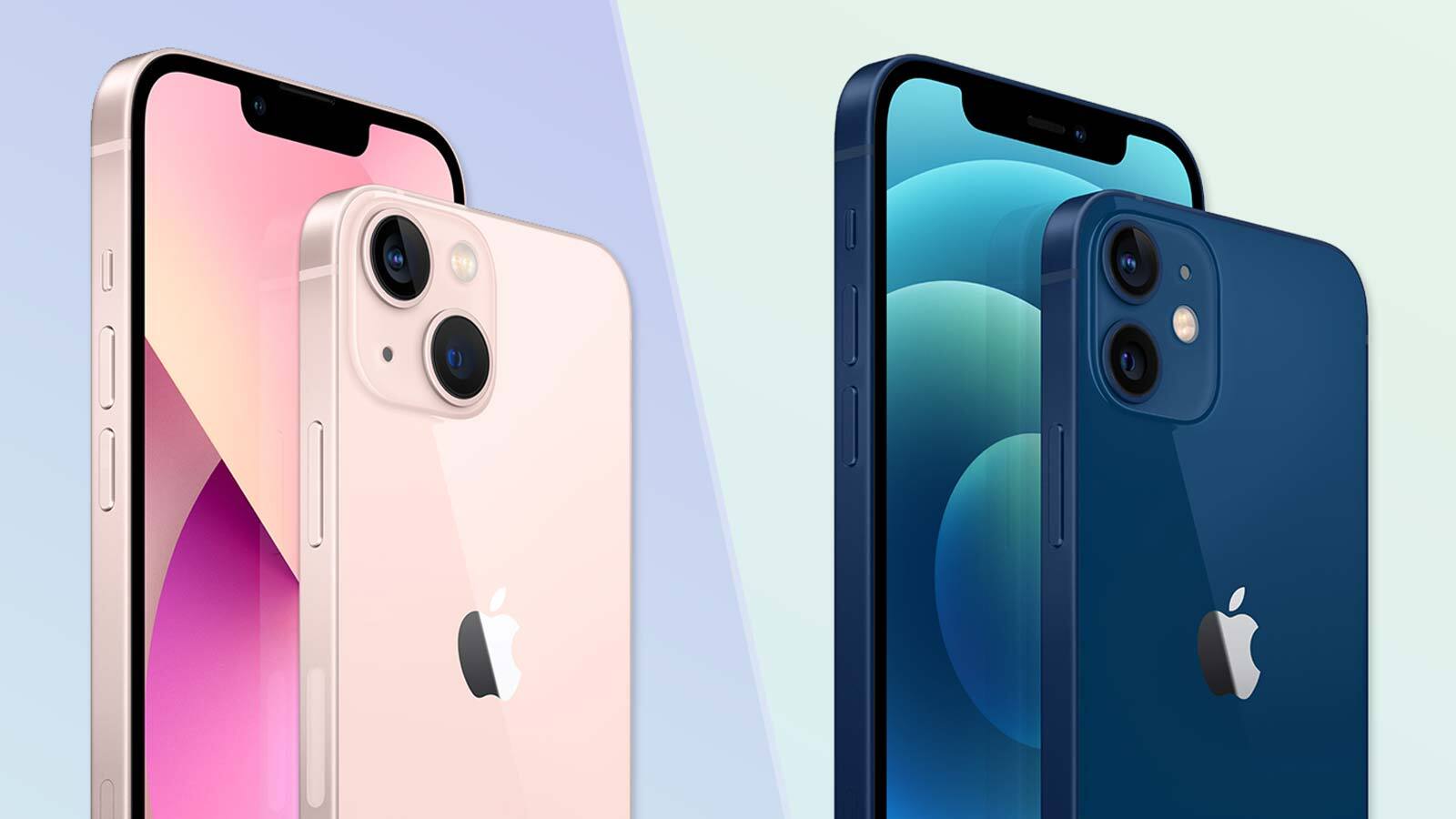 iPhone 12 vs iPhone 13: Almost every year Apple releases a new I phone, but today we are going to be discussing the specifications of the latest iPhone 13 compared to the the former iPhone 12, we are also going to examine either the latest iphone 13 is really worth to purchase.
As the best selling phone, iphone 13 comes with a reasonable prices and at 4 different sizes, to customer perfection, compared to iphone 12 it has a only few changes, which includes; a gain in weight , a boosted battery life and the upgraded cameras.
For the purpose of the comparison we going to examine each part of the two iphone namely;
Display and Design
cameras
Performance and storage
Battery and Charging


iPhone 13 vs iPhone 12: Specs Comparison
iPhone 13
iPhone 12
Size and Weight
146.7 x 71.5 x 7.65 mm, 174g
146.7 x 71.5 x 7.4 mm, 164g
Display
6.1″ OLED, 60Hz (120Hz ProMotion available in iPhone 13

Pro

models only)
6.1″ OLED @60Hz
Processor
Apple A15 Bionic
Apple A14 Bionic
RAM
4GB
4GB
Storage
128/256/512GB, non expandable
64/128/256GB, non expandable
Cameras
12MP wide camera with sensor shift stabilization
12MP ultra-wide camera, f/2.4
12MP wide camera
12MP ultra-wide camera, f/2.4
Battery size
*3,095mAh
1.5 hours longer battery life on average
*2,815mAh
Charging speeds
20W wired, 15W MagSafe wireless
20W wired, 15W MagSafe wireless
Prices
starting from $830
after iPhone 13 launch, iPhone 12 prices drop by $100 to a base of $730
iPhone 12 vs iPhone 13: Display and Design
iPhone 12 vs iPhone 13: it is really obvious that the both iPhone has a similarities when it comes to design and display. When it comes to display they both have a 6.1-inch Super Retina XDR display with a 2532×1170 pixel resolution at 460 ppi, and a 2,000,000:1 contrast ratio, True Tone, P3 color support.
The minimal differences here is that iPhone 13 is more times (28x) brighter than iPhone 12, iPhone 13 has a max brightness of 800nits, while the other has a brightness of 620 nits, They both have an maximum HDR brightness of 1,200 nits.
Another differences here, is the notch, iPhone has a smaller notch, which allows more screen to be displayed at the top.
iPhone 12 vs iPhone 13: Cameras
iPhone 12 vs iPhone 13: Here comes another major differences, which all iPhone users worldwide had being longing to see and be persuaded by this new lovely features.
iPhone 13's rear camera lense are now made diagonal, as to let Apple place in a sensor-shift optical image stabilization system in there, while the main rear camer of the two Apple product are identical, which posses 12MP Wide (ƒ/1.6 aperture) and Ultra Wide (ƒ/2.4 aperture).
Main camera of iPhone 13; has a larger sensor for better low-light performance, but the front camera; has the same attribute of (12MP, ƒ/2.2 aperture)
New Features
This trending iPhone 13, Now has a new feature, which consists is referred; to as 'Photographic Styles'.
This new feature allows you to change color tone, without tampering with skin tones. Here you can apply a style called; Rich Contrast, Which enables the shadows in the photo taken; become darken and making the color deeper.
Another, is the Vibrant style, which enables; the photo to be brighter. Warm style; elevates the golden tone and lastly, cool style; emphasizes blue colors.
The other feature is called; the Cinematic mode, which establishes a a shallow depth of field, making the person in the remain totally focused, while the background is blur. it also allows; to shift from one person to another using this mode, and also users have the privilege to edit the effect on the iPhone, to adjust the blur or change to another focus.
This cinematic mode, works at 1080p at 30 fps.
iPhone 12 vs iPhone 13: Battery life
and Charging
According to gathered; information from iPhone manufacturer to Chemtrec, iPhone 13's battery compared to iPhone 12 has the capacity of 12.41 watt hours (having a significant increase at 15 percent increase), While iPhone 12 is listed as 10.78Wh.
Battery video playing-time
iPhone 13 has;
2-hour increase on video playback over iPhone 12,
4- hour increase of streamed video over iPhone 12
10- hour increase of audio playback over iPhone 12
.which entails;
19 hours of video playback
15 hours of streamed video
75 hours of audio playback
iPhone 12 and iPhone 13 are both compatible with wireless charging, which includes; MagSafe and Qi.
Note; If you use a 20W or higher charger, both phones can add up to a 50 percent charge in 30 minutes.
Also the iPhone 13 brings about a new battery boost, Apple didn't; reveal it exact numbers of the battery capacity. According; to personal research and experiments iPhone 13 has a 3,227mAh battery cell over the iPhone 12 2,815mAh.
Excluding the battery capacity numbers, Apple only reveals that a iPhone 13 user will get a 1.5 hours longer battery life average use, over the iPhone 12.
iPhone 12 vs iPhone 13:
Peformance and storage
It is a well known fact that; iPhone manufacturers (Apple), makes its own chips ( Apple A15) for its devices (iPhone) unlike like other phone brands, that had their chip being built by others micro chip company.
Due to this Apple have led the phone technology market in terms of of quality and efficient performance in the past few years.
iPhone 13 ( Apple A15) and iPhone 12 ( Apple A14); has the same hardware features of 4GB of RAM, also does its has a significant amount of differences.
The A15 chip has an; incredible and noticeable percentage boost over the A14 chip.
A15 chips has 6 CPU cores, which includes;
Two performance cores
Four efficiency cores
It also has a; 4-core GPU, and a 16-core Neural Engine, which is one less GPU core than the iPhone 13pro (making it un noticeable), it only makes much differences in high end games, anything other than that is voild.
Storage
On launching the iPhone 13, Apple manufacturer started; from the storage of 64GB till 128GB, the monetary cost was about; $50, iPhone 12 remains at its first storage of 64GB, While the 128GB will worth around $749.
If you are the type that takes storage matter so serious, then getting a higher iPhone storage will cost a fortune. Price varies on getting the iPhone 256GB ($849), getting either of the iPhone 13 storage upgrade, an extra $100 would do for twice the storage ,256GB, $899, or $300 more for four times the storage (512GB, $1,099).
Related article;